NEWS AND UPDATES
05/08/22
April Sales Report!

As predicted April 2022 Sales where down. The higher gas prices and over cost of living issues are driving down sales. Not to forgot the lack of product availability. We are reliving 2008-2012 again! But this time there seems to be an easy fix! The war in Ukraine is not helping either!

Anyway, BRH sales are down 17% year to year. New customers up 23% however and returning customers up 55%. Daily transaction up 13% but they are smaller transactions. Totals per transactions down 17% as well as item per transactions down 24%.

Can't sell what you do have to sell.
This is not the fault of BRH. It is a manufacturing and wholesaler issue.

So again, as I state each week, think ahead about what you need and order when it is available so you will have it when you need it!

People Don't Read!

Why is it that people just want to waste my valuable time?

BRH has received several 1 star reviews again about store hours. Some complaining about the former $50 store visit request policy. So I recently ended that program and have closed the retail store to visitors since March 7th. Yet BRH just got another bad 1 star review. This person had the nerve to say "OPEN BY APPOINTMENT ONLY. FEE WILL APPLY CONTACT FOR DETAILS." . I could not believe that. BRH just ended that policy!
Again, someone that did not read the wealth of information on the Google Reviews as well as the BRH Store Hours page!

I continually get emails and calls from people asking about a specific product and availability. If they would have taken the time to put the same info they are emailing BRH about into the Product Search Page they would get the exact info.

When I send or tell them about the Product Search Page direct link and the exact link to the item they emailed BRH about, I usually get no response.

Also, as noted all over our website, BRH for the last two months, does not have any retail store hours. Why is it that people continue to contact BRH about picking up at the retail store because they live nearby? Simply stated on the same web pages they got the phone number from it states just that!

Then when I tell them about the new policy and why BRH retail and shipping does not have set hours now you never here from them again! If they needed model railroading "stuff" they most likely would order online and have it shipped. Since BRH has very very low prices and that they live nearby why didn't they order from BRH? If you order from BRH then the shipping should not be that expensive! Certainly less then ordering from some business out of state!

Also, another local person called and left a message about something they saw on the Product Search page and wanted to pickup. When I explained that BRH is an online retailer and that 99.9% of BRH business is from online shipped sales he said he would order online. To date BRH has not seen that order.

And so it goes!

Shopping Cart Updated

We have updated the shopping cart personal information fill in screens so be aware.
We have changed the sequence, removed some questions and added new ones pertaining to the Miniature World of Trains™.
Some of our customers use "auto fill" to answer questions. By doing this some of the questions could be answered incorrectly which may lead to delays in shipping your order to you.

Miniature World of Trains™

MWOT™ credit card investments and donations placed via your Blue Ridge Hobbies shopping cart order have started to be processed finally this past Thursday. This is a new credit card processing system from the project and is taking a little longer to learn then the BRH processing system.

Receipts for your donations and investments will be emailed via the BRH shopping cart order number that you placed it on. They will show up on your credit card statements as a Miniature World of Trains™ transaction.

Some of these donations go back as far as early 2022. Sorry for the delay but it took a while to get the credit card processing company to understand how the project needs to process credit cards at this time.

On Monday it is our plan to do a regional press release here in the Upstate of South Carolina and get some location news coverage about the project. The press release will talk about the project but no a specific location. Right now we have 7 in mind. The last time we announced the permanent location we wanted for the non profit version when we where seeking funding, the location was revealed and within 30 days the building was sold to a developer thus nixing the lease deal. We will not make that mistake twice!

We will however talk about the project and what we are planning for the venue. Hopefully someone will cover it on the local news, radio and print. I will let you know if something positive happens.
Join your fellow model railroaders in investing / donating / volunteering
to help build this new venue.
---
05/01/22
Slowest Time Of The Year

Currently orders are down, emails and voicemails are down and it is even quieter on some of the model railroad forums I monitor. Welcome to Spring!

For the next two months it is the slowest sales period each year for model railroading sales. However, it is the best time of year to order from the list of in stock products in our product search as the holiday season restocks are arriving after Christmas 2021 sales.

So, again, with the supply chain issues and the continued price increases coming down from manufacturers, again I suggest that you think ahead about what you may need for your fall model railroading. Purchase now to get the things you need while they are in stock!

Tichy Train Group

From Don:
We have put this off as long as possible, but unfortunately, we are raising prices on most HO scale detail items. Most freight car parts, trackside details and window & door packages will be going up by $.50 per pack. Freight cars and structure kits will not be going up at this time. Assortments and other miscellaneous items will be going up about 10%. Most of these prices have not changed in over 12 years, some have not changed in twenty years. The new pricing will take effect on May 1st. Orders will be accepted at the current prices until then.
At this time we still have all items in stock but this is subject to change due to supply chain issues. Our wire supplier now has a 5 month lead time instead of the 1 month we have had for the last 30 years. We were recently quoted 8 months lead on our truck screws. Machinery repair parts are another major unknown.
Thank you for your understanding and support.

Altas Suspends Sale Of Mærsk A/S

Due to a cease-and-desist request received from Patrade A/S, legal representatives of A.P. Møller – Mærsk A/S, Atlas must cease sale of all products using the Maersk Logo and name and remove all references to Maersk from our website. We no longer have these items in our inventory and have already removed them from our website. We are required by Patrade A/S to request that all Atlas distributors and dealers also cease sale of these products and specifically remove them from your website and online stores. We apologize for the inconvenience that this may cause. Thank you in advance for your cooperation.

The list of items affected by this C&D notice are as follow:

Item Numbers and Description
50004164 N 40' STANDARD HEIGHT CONTAINER MAERSK [MRKU] SET #1
50004165 N 40' STANDARD HEIGHT CONTAINER MAERSK [MRKU] SET #2
50004166 N 40' STANDARD HEIGHT CONTAINER MAERSK LINE [MRKU] SET #1
50004167 N 40' STANDARD HEIGHT CONTAINER MAERSK LINE [MRKU] SET #2
3006345 O 40' CONTAINERS MAERSK MRKU 5193122, 6231269, 6311770, 5752489, 5592436, 5628902, 6115700, 5347172 (GRAY/BLE/WHITE)
3006355 O 40' REEFER CONTAINER MAERSK-SEALAND MWCU 6195137, MWCU 6196128, MWCU 6197715, MWCU 6195142 (WHITE/BLUE)

In addition to the above, the Maersk Limited Edition Fantasy scheme HO SD-26 locomotives, items 10 003 734/10 003 762, will be held upon arrival pending approval from Maersk. Maersk HO 48' Well Cars, items 20 005 998 through 20 006 001 have been canceled and will not be produced at this time. Further updates will be provided as new information becomes available.

We are hopeful that this measure will only be temporary as we are attempting to obtain a license from Maersk, which will allow continued production and sale of branded models.
Miniature World of Trains™
The MWOT™ Project continues to move forward towards a late 2023 opening.

The MWOT™ Project credit card processing is finally set up so all of your BRH to MWOT™
can now be processed. Sorry for the delay. They will show up on you statements as Miniature World Of Trains. Thanks again for your donations!

If you can not invest to help create the Miniature World of Trains™ then a donation is a great option!

Join your fellow model railroaders in investing / donating / volunteering
to help build this new venue.
---
04/24/22
Why Does BRH Require A Credit Card Deposit
Again this week older back orders / advance reservations are arriving and we
are finding that the credit cards on file, even though they have valid information,
are not processing for one reason or another.

BRH will reach out to the customer a maximum of three times via shopping cart email(s)and / or a call(s) to the last contact information we have on file. If we do not get a response then we will cancel the order and then you will lose your deposit!

In addition, you will no long be able to make an order with BRH in the future!

Recently I have had several customers that did not take care of a older situation with a credit card and they did not understand why I will not work with them on a new order. Simply put, those customers did not honor their purchase contract with BRH thus we can not take a chance that they will do the same thing again!

This cost BRH money and leads to higher overall prices for people that honor their order commitments.

Credit Card Up To Date?
To avoid losing you back order or advance reservation make sure your credit card information is up to date.
To up date via our product search page just fill in the normal personal information page and send your information to BRH via our secure webpage:



Held Orders

Some of you have orders sitting at BRH for pickup for several months now. These orders have been charged to your credit card and are paid for. Since we have had no response from emails and calls arrangements have not been made to pick up your orders.

So, per store policy, these orders will be shipped to you at your cost.

Sorry but we can not have these orders waiting at BRH indefinitely.
Testors Price Increase

Testors is raising prices 44%-45% effective 5/15/22. We just received the new price list and it is across the board, every item is going up either 44% or 45%. Get it at the current price while you can.

Miniature World of Trains™
The MWOT™ Project is in the midst of it's largest fund raiser with ads in the MRH (Model Railroad Hobbyist) newsletter blast the best Tuesday and the Model Railroaders Newsletter on Thursday. Coming up next week on Wednesday will be the Classic Toy Trains newsletter.

Join your fellow model railroaders in investing / donating / volunteering
to help build this new venue.


MRH (Model Railroad Hobbyist) Ad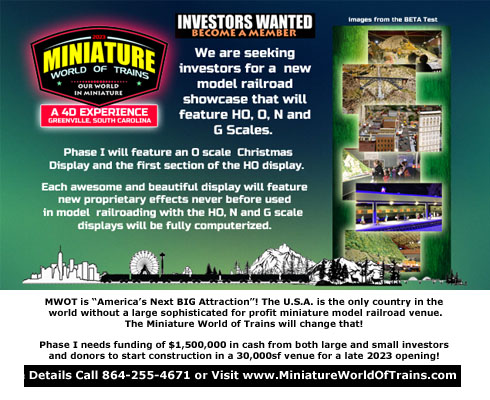 ---
---
THANKS FOR THE SUPPORT!